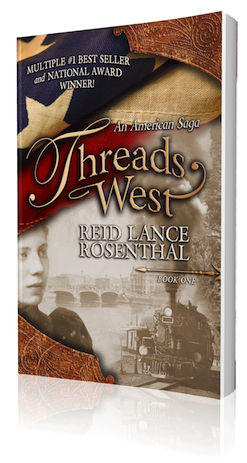 Click here to find Threads West at these FINE Independent Bookstores
Click here to find Threads West at these FINE Chain Bookstores
Click here to find Threads West at these Travel Spots
We love bookstores. They have a certain smell, ambiance and energy. They are unique.
Folks browse the aisles, occasionally stopping to pluck books from cluttered shelves, then holding them lovingly, engrossed in the descriptions on the back over, voracious in their consumption of biography and excerpts on the inside jackets. There is a quiet, happy, anticipatory murmur that permeates the mini canyons between the rows of tomes. Occasionally, there is a grin and head nod as they read, once in a while reaching absentmindedly for the latte or coffee they have set down somewhere nearby. Sincere smiles radiate from knowledgeable staff as they lead patrons hither and yon with those words,"I know just what you would enjoy–just read it a week ago…"
Yes, the dot coms are a fact of life and can not be ignored by the serious publisher or author, and in this rapidly evolving world of books the digital is also here to stay. A thousand or so titles compactly stored in devices not much larger than a paperback at only a fraction of the thickness. On the surface in this frenetic modern existence it seems enticing.
But truth be known, I am a paper man. The texture, the heft, the tactile of a cover and pages between each thumb and forefinger, that almost imperceptible sound as I eagerly turn one page to the next. And though a newbie to the process, my gut level feelings when I started on this journey have been borne out time and time again. In the end a good book is one person looking another in the eye, handing over a volume with an earnest smile, and saying "You really should read this."
These pages are dedicated to all those fine bookstores, and the folks in them that do just that.
Reid Lance Rosenthal, Author