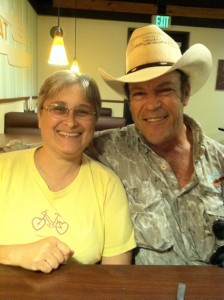 Mr. Rosenthal,
We met at a little cafe in Grand Junction on August 31st, which happened to be my birthday. I work in a library if that jogs your memory. You asked me to tell you my thoughts on your book.
I waited with anticipation for your book Threads West to arrive. Once I started it, I could not put it down. The story is extremely well written and pulled me in from the beginning. Your character descriptions paint a picture so vivid in my mind it is as though I am a fly on the wall in the very room where they are. They really came to life for me and it was as though I knew them. The story line I felt was very well thought out and you crafted a story that clearly shows you have done your homework in the research department and that you have an uncanny glimpse into the human spirit.
Needless to say I have a request in for the second book in the series and my anticipation is even greater. I have recommended this book to anyone and everyone who asks for a wonderfully written thought provoking historical fiction novel. I can only hope that if this book is made into a television mini series, the casting directors, etc. put as much care in bringing this book to the screen as you have done in writing such a marvelous work.
I will write again when I finish the second in the series. Thank you again for taking the time to talk to my husband and myself in Grand Junction. For a person who has loved books since being a little girl, it made my day!