Wyoming Youth Challenge
Location: Wyoming National Guard
February 2, 2011
Yet another speaking engagement at an educational center–a personal mission of mine–this time to the dedicated staff and terrific young men and women of the WY Youth Challenge. This superb program is housed on WY National Guard Bases, and co-sponsored with forward looking private foundations. The talk? Self reliance, self expression, universal energy and how these underpinnings of American history are the essence of our individual and American spirit–back in the Old West, and now. Two more sessions with this great bunch–and I am way looking forward to both!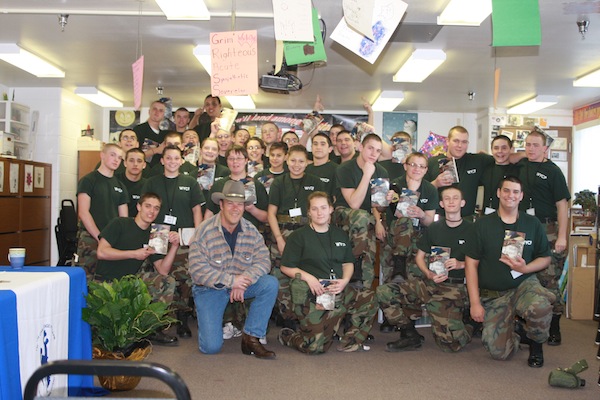 Angie Schultz "Impressions of Wyoming Youth Challenge Lead Instructor"
"Yes, we were…VERY blessed. What Reid isn't telling you is how enthralled these young men and women were. They were completely riveted! They thanked us over and over again for asking you to come. They, and we, are the honored ones. Not many take an interest in our kids like you do. They are amazing and I couldn't be happier to notice you see the same in them. It was a truly amazing first event and I'm busy working on the details of the second and third. Thank you for allowing us into your heart. My kids are worthy and you helped show them that."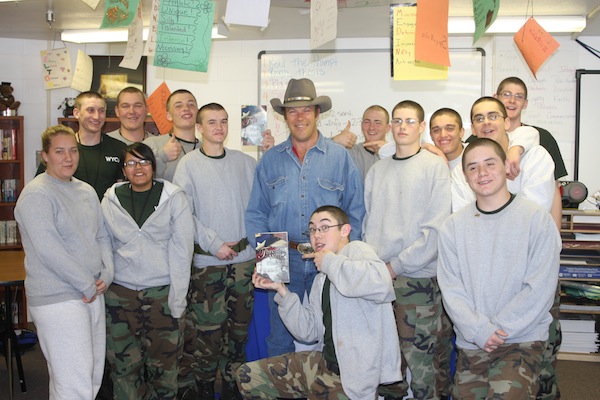 Thanks… And I need to tell you how amazing you are and how much the kids loved you! I truly love the way you are approaching this with all of us, and the kids are stoked knowing there is absolutely no risk in reading the story. I wish I had others who were as generous with their time and, apparently money. I had no idea what you had planned for them with the second book. I am just as excited as the kids are about the prospect. Make sure you keep and extra 3 or 4 so that we teachers can buy them so that we are able to read along with them. Reid, you have truly made my year with all you are doing for me, and mostly for my kids. They really need more people like you in their lives. New author…so what? You have the heart most big-timers lack. And not only do I see it…but my kids do as well, and they are connected to you now because of it. God bless you and yours for everything and for always!
Angie Schultz, Lead Instructor