Howdy All
This is the long promised update on Book Four–Moccasin Track–AND Books Five and Six, Footsteps and Blood At Glorieta Pass!
I understand there are all sorts of dates on various online outlets ranging from last year to August 14, this year. They are all incorrect! This site, our Twitter Feed and our Facebook page have the scoop. Period. (www.facebook.com/threadswest–go on and throw us a like!)
I am extremely flattered by the thousands of emails, phone calls, social media posts and messages I have received–and thousands of eyeball to eyeball discussions at book signings and events I have had— from and with so many of you great Threads West fans. Yes, Book Four is waaaaaaaaaaaay late. Yes, Book Five is late.
Though we have tried to keep you updated without hype via best estimated dates for releases, as life seems to do to all of us, everything takes longer, folks you rely on just don't quite measure fully to such reliance, and the unexpected occurs.  Many of you I have communicated with seem surprised at how intricate the process is to bring a book from the author's mind to print, or to eBook format, ready for any reader, any brick and mortar store, online outlet, or digital platform.
There is the writing, the endless editing, the art, the book cover, the back cover, interior front and interior back flaps, the update to the nitty gritty as we call it (all that stuff at the front of any book) the excerpts for the next book, the copy editing, the proof reading, the review of the printers PDF, the printing (or eBook loading on many platforms, each of which has its own distinct requirements and codes) the Publisher shipping to the Distributor, with subsequent the re-distribution to the stores, outlets and other locations, the coordination of the  release, and etc. And that is the short list–there are details within the details in each one of those major steps. And–laughing through gritted teeth–that is assuming all is sanguine relative to the author's schedule and the schedule of each of the folks that perform all the other tasks. One of the keys to the author schedule is an environment to write without distraction.
Each author has their highly individual, very distinctive formula for writing. Some use huge, wall long story boards, others write just a set amount of words per day. Still others set aside two, three, or whatever hours to write each day some days are a thousand words–some days are none. Then those are those writers like myself—bingers of the pen 🙂  I need a block of time, full focus, no distraction, and then I can write like the wind–three, four, sometimes five thousand words a day (the average Threads West Book is about one hundred thousand words.) Remember, that is the first draft of, give or take, about thirty, taking into account my own and all other edits from a myriad of editors until a chapter is done and ready for print.
Is all this an excuse? Nope. Just the facts. I am the author and it all begins with me.
Part of writing is having life reasonably settled around you. Beginning February in the middle of nowhere New Mexico at 1:30 am, 2015 the year became highly unsettled. The wrecked one ton replaced (the fun stuff that started off 2015), I finally got home at 11:50 pm March 1 to find the ranch house interior under water, or should I say under collapsed ceilings over the water. The 1868 log ranch house was finally put back together after a nine month tear out and reconstruct ordeal which began March 2 last year. Yippy Ki Yeah! I have shared with some of you, but you all might get a chuckle (maybe J) out of some photos of the "lost year of '15".  http://threadswestseries.com/?p=3681
There were also some "interesting" shenanigans by the previous, now terminated Distributor. However that is yet another tale. Regardless, tough to write (or do much of anything) with floors torn down to dirt, and no water/no heat for a spell (looooong spell!). Big sigh, and a not so humorous chuckle. I graduated, literally, from a four foot round table in the corner of the kitchen surrounded by rubble, to a mostly functioning house the last week of November, days before my annual thirty day Holiday book signing tour, which unfortunately had been booked 6-9 months before. So I have been back in the saddle a grand total of just the last sixty days since February 4, 2015!! Ouch!
Enough Boo Hoo! Now the good news! Books 4, 5 and likely 6 (if the Book Gods smile) coming your way in 2016, with luck in roughly April/May-June/July-Sept/Oct. And (the cowboy grins mischievously) lots of surprises coming your way in the next novels–guaranteeeeeeeed! Some change in book format, too! A new look to the covers keeping all the brand goodies you love. Check out Book 5 cover (just getting finalized) below. Beginning with Book 4, Moccasin Tracks, you will enjoy twenty five or so pages up front which will bring you right up to speed on the arc of the tale thus far, as well as a really terrific two page period map that tracks the characters and their travels.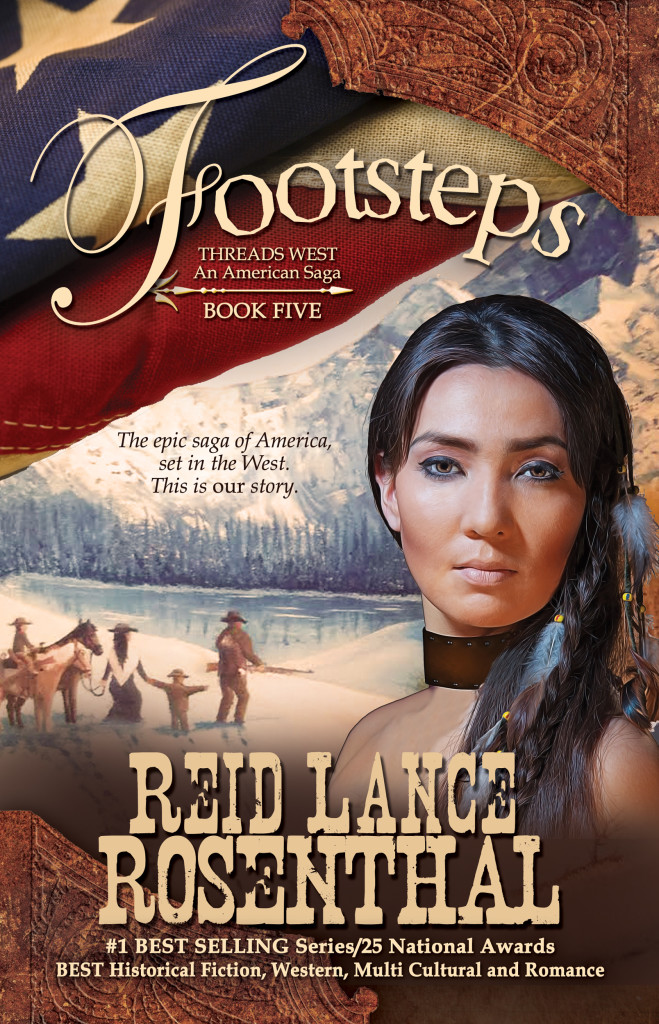 Be assured that the only person on the planet that wants those books in your hands more than you, is me! If you are not signed up for updates on the site ( www.threadswestseries.com) you might want to. The Pubs will be posting periodic addendums to this blog, the new covers, excerpts, etc beginning shortly. Also, they are planning some special deals including buying the Threads West Map (beautiful art piece!) and the brand new (great!) audio books, (they are GREAT!!! Click Here.) You will be far more in the know than the general public.
Huge thanks to all of you for being Threads West series fans! Thrilled you like Reid's reads :-). And again, apologies for the delay. I just might have to incorporate the whole tale of 2015 in a book sometime! J